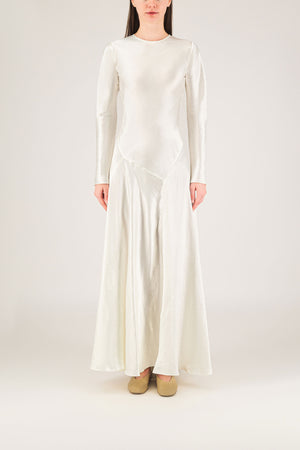 Yara Dress in White
This product is also available in BLACK.


A captivating dress like no other. This long-sleeved, ankle-length, satin dress exudes elegance and sophistication, making you feel like a true vision of beauty no matter where your night takes you.

The dress is crafted with a bias cut, which adds a graceful and flattering drape to the fabric. The low-angled asymmetrical waistline further enhances your curves, creating a stunning silhouette that accentuates your natural beauty. Both the fabric and the structure of the dress have been meticulously combined to create a garment that moves and catches the light beautifully. As you gracefully glide through the room, the dress shimmers and shines, adding an enchanting touch to your ensemble.

The Yara Dress is designed to be truly timeless, transcending fleeting trends and remaining a cherished piece in your wardrobe for years to come. Its classic design and high-quality craftsmanship ensure that it will stand the test of time, making it a reliable choice for many future occasions.

The Yara Dress is available in black and white.
- Please check
size chart
for more information.
- True to size
- Bias cut
- Back sipper
- Ankle length
- Delivery within Saudi is up to 3-5 business days.
- International shipping takes between 7-10 business days
- Free refunds & exchanges are accepted within 7 days of receipt.
- Please refer to our
shipping policy
for further details.