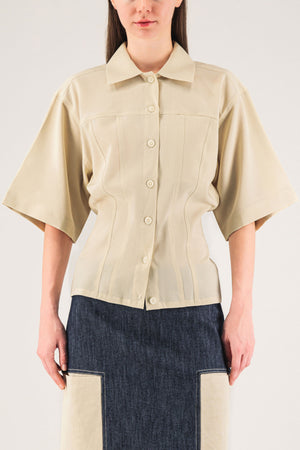 Volume Shortsleeve Top in Cream
This product is also available in GREY.




Introducing our unique Volume short sleeve shirt, a boxed shirt like no other that redefines elevated daywear. This distinctive piece combines elements of masculine structure with a feminine touch, creating a harmonious blend of style and versatility.
The Volume shirt features voluminous short sleeves, adding dramatic flair. Its cinched waist creates a flattering silhouette, while the beige color adds a timeless touch. Crafted with attention to detail, this shirt exemplifies Abadia's commitment to quality and craftsmanship.
- Small size can fit up to small & medium
- Button down
- Boxed fit with fitted waist
- Shortsleeved

- Delivery within Saudi is up to 3-5 business days.
- International shipping takes between 7-10 business days
- Free refunds & exchanges are accepted within 7 days of receipt.
Please refer to our shipping policy for further details.